1.Barclaycard Rewards MasterCard®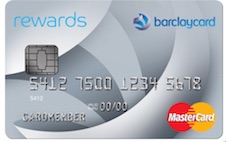 Benefits of the Barclaycard Rewards MasterCard®
1. The card doles out decent rewards and has a $0 annual fee, a rare combination among cards for people with thinner credit profiles.
2. There are no quarterly spending caps for earning rewards, and points never expire.
3. You'll get a free FICO score and, in some cases, a credit line increase after you make five monthly payments on time.
4. There's no penalty APR. That means that if you fall behind on payments, you won't have to pay a higher interest rate. (Even so, make it a priority to pay on time, as late payments can hurt your credit score. When your credit file is already thin, the damage from a late payment could be even greater.)
Drawbacks of the Barclaycard Rewards MasterCard®
1. It doesn't offer a sign-up bonus.
2. The ongoing APR is high. If you often carry a balance, you could end up overpaying in interest.
You must have at least 1,000 points to redeem rewards, which may be difficult for frugal spenders to reach.
The bottom line
The Barclaycard Rewards MasterCard® is a good pick if you spend a lot on gas, groceries and utilities. As long as you pay your balance in full every billing cycle and spend enough to meet the minimum redemption requirement, you'll come out ahead on this $0 annual fee card.